Birmingham Pallet Delivery & Light Haulage Services. See below for our options for customers requiring UK or International Pallet Delivery Services.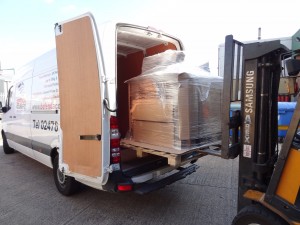 Same Day Single Pallet or Multi-pallet UK Delivery.
This Birmingham pallet delivery service is for customers requiring fast nationwide palletised goods delivery. We offer a dedicated vehicle from our own fleet for same day delivery of urgent loads. This high speed service is available for either single or multiple pallet deliveries and a suitable vehicle based on the size and weight of your goods will be supplied.
Pallet Network Delivery
For less urgent pallet deliveries a Pallet Network service might be a suitable option with a choice of next-day or an even more economical 2/3 day service.
Shared Load or Pallet Groupage
With our vehicles despatched daily to various areas of the UK, our Groupage Option could be a preferred option for customers not wanting their goods to be put into a Network. Using this service goods will be carried in our own vehicles with other customer's items requiring delivery to an area close to your own. A degree of flexibility may be required for delivery of goods using this facility. It is suitable for single or multiple pallet deliveries but can also be extremely useful for non-palletised goods.
Non-palletised Loads
Non-palletised items can be carried on either our Same-day Dedicated Vehicle or Groupage services. See above.
International Pallet Delivery
Working closely with our partners to provide international pallet delivery to most worldwide destinations we can usually provide substantial cost savings over your current provider. Transit times will of course be dependent on the item's ultimate destination. For information on any of our international pallet or parcel services please contact us by phone or email.
As a Birmingham pallet delivery company we provide fully tracked vehicles with electronic proof-of-delivery emailed directly to our customers once we have completed the delivery. This service is for items carried in our own vehicles. For items placed into a pallet network proof-of-delivery is still obtained and can be supplied where required.
Call our Pallet Distribution Birmingham telephone 0121 2704938 for information on same day pallet distribution (in a dedicated vehicle), as groupage, or within our networked overnight or an economy 2 to 3 day services.
Wooden Shipping Crates
Need bespoke — tailor made pallet bottom timber shipping crates or wooden containers? Why not discuss having our in-house team of wooden case makers produce a custom made container for your U.K. or International shipments that need better protection than just an open pallet. See our wooden shipping crates here
Heavy Goods Vehicles HGV.
For heavy goods transport or for unusual loads requiring road transport please call to discuss your requirements on Birmingham 0121 2704938